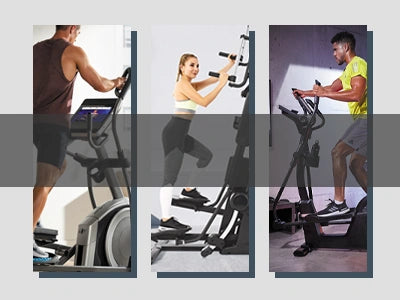 Elliptical Cross Trainers
An elliptical trainer, also known as a 'cross trainer' is a cardio vascular machine designed to replicate the upper and lower body motions of walking, jogging and running while keeping the pressure off your joints. A more recent invention, the cross trainer appeared a little over 20 years ago but has since become a staple in gyms across the world. It's also becoming ever more popular in homes, so let's look at why, what it can do for you and what to consider when buying one.
Why should I buy a cross trainer?
For anyone wanting to get fit an elliptical cross trainer is a great option. Since exercising on one involves both your arms and legs, a cross trainer is a big calorie burner – up to 12 calories a minute if you're really exerting yourself – suiting it to weight loss programs. Plus, as well as being a big calorie burner a cross trainer can improve flexibility and tone the whole body. It builds strength and endurance in a greater number of muscles than an exercise bike or a treadmill, so you can really get fit and perform a quality cardiovascular home workout on a cross trainer.
Cross trainers keep the impact low and the movement is guided by the handles and footplates, minimising injury from impact or poor technique. They are very safe to use because they keep the stress and impacts on your joints to a minimum, so people recovering from injuries and those who are overweight or just starting out on an exercise program will find cross trainers to be a useful piece of fitness equipment.
What's more, since you don't take your feet off the pedals and impact them back down, ellipticals tend to be fairly quiet to use, which is always appreciated in the home!
When using a cross trainer you can target train by varying the exertion between the upper and lower body: you could direct the power to the legs to tone the thighs, pull harder on the handles to strengthen the back and shoulders or add a twisting motion to slim the waist area.
So the cross trainer is a versatile, effective, low-impact, calorie-burning fitness machine that almost anyone can use.
Now let's explore a few other aspects of cross trainers.
How do I know which cross trainer is for me?
Finding the right cross trainer for you boils down to a few main things. Obviously, if you have a budget then that will narrow down your search, and we will look at prices later on. But before deciding on a budget you should ask yourself a few other questions.
How often do you plan on using it? And what are your aims? If you plan on gentle usage a couple of times a week or intense, regular training, this will have a big bearing on the machines you should be considering. A more basic machine will probably suit the first scenario, but someone training for events or who wants to do intense interval training will need a sturdier machine with a better spec.
How much space do you have? The average cross trainer length is about 1.5m but some can be more than 2m long! A few models will have a folding system to help save space at home, but it's not as common as on treadmills for example.
Who will be using the elliptical? Keep in mind the height of the machine's potential users. Most stride lengths fall between 12-20" (30-50cm). In general, the taller you are and the longer your legs, the longer stride length you'll need. Having a stride length that's too short will make exercising on the trainer uncomfortable, and if it's too long you might put unnecessary strain on your muscles. You can find ellipticals with a variable stride length.
If there will be multiple users, you may want a trainer with user profiles so each person can store their data, and more programs or interactive features.
Other things to look for include the flywheel weight, the Q factor, levels of resistance and heart rate monitoring.
When you exercise on a cross trainer your motion turns the flywheel, and the heavier the flywheel the smoother the motion. Ideally you want your flywheel to be over 7kg.
The Q factor means the distance between the two foot pedals, with the closer the pedals are the more comfortable the cross training motion.
Resistance is usually magnetic and controlled by buttons on the console. Low-intensity users will find machines with fewer levels fine, but those looking to train harder will need more choice, especially to keep the challenge up as you get fitter.
Heart rate measurement on a cross trainer can be achieved in two ways: via hand sensors or a chest belt if the machine has a wireless heart rate receiver. The chest belt method is more comfortable and accurate and lets you perform heart rate controlled workouts so you train in the right HR zone.
The shape and design is the most obvious difference – front drive cross trainers have the flywheel located at the front of the machine, rear drive ellipticals at the rear. The main difference is that rear wheel drive machines normally have a steeper leg action which somewhat replicates the motion on a stepper. Front drive motion is closer to that of jogging. It's important to note that neither is better than the other, you may just prefer one style over the other. Front drive ellipticals tend to start off at a slightly higher price than rear drive.
So how much do elliptical cross trainers cost?
You could spend under £200 on one, or over £10,000! Most people looking for a home cross trainer will spend between £300 and £1000. More than this and you're into the gym-quality commercial models. Yes, generally speaking the more expensive the machine the better the specs, performance and comfort, but spending more doesn't guarantee you'll find the right machine for you. Make sure you know what you're looking for and you'll see at what sort of price bracket those features are available.
How will my cross trainer be delivered?
Your machine will be delivered free of charge to most UK mainland postcodes on a fast and efficient service. We use a number of methods to deliver cross trainers including specialist 2-man teams for heavier and bulky items. Some machines will be available for a next day service. Please do read the information in the delivery section for the product that you wish to purchase as it will contain all the relevant info for that product. Our customer service is on hand to answer any questions regarding delivery or to book the delivery slot for you.
Why should I buy from Sweatband.com?
We have been selling fitness machines including elliptical cross trainers to satisfied customers for over a decade and we pride ourselves on our customer service. We have a full team here ready to help you at any stage, whether it's product advice, placing an order, delivery related or in the unlikely and unfortunate event that there's a problem with your machine. For this we have an experience warranty team who will be your first port of call and won't leave you on your own to deal with manufacturers, but will be proactive in resolving any issues.
We only sell quality products that we believe our customers will enjoy, and have extremely competitive prices. We also have physical stores, with a racket sports focussed shop in Central London and a fitness warehouse in North Manchester. So we're not just an online only retailer!
How do I get started?
Head up this page to start browsing the machines right away. You can use the filters to get more specific results, such as by price, brand, stride length and front or rear drive. Don't forget that if you need further assistance, you can give us a call and we'll be happy to help.
Make sure you check out our range of DKN cross trainers. Or how about our Viavito cross trainers? If you are looking for something different, make sure you take a look at our NordicTrack and Proform range. For more information on getting the best use out of your elliptical cross trainer, check out our FAQs, features and cross trainer workout plans.
If you have decided that a cross trainer is not for you, why do you not consider our other products in our fitness equipment range? Check out our exercise bikes, treadmills and rowing machines.