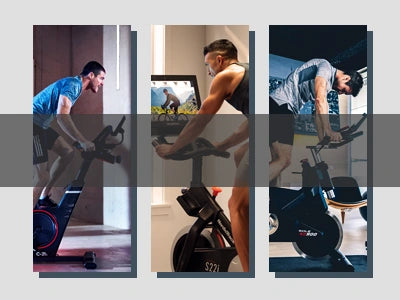 Exercise Bikes
The exercise bike is an ever-popular piece of fitness equipment found in homes and gyms the world over. Why is it so popular? For starters, exercise bikes are easy to use and very effective. They're also practical as they don't take up as much space as other types of fitness machines. And, last but not least, buying one doesn't have to break the bank.
In our exercise bike buyers guide below we're going to look at how to choose the right model for you, explaining some of the important things to consider before pressing that but button. Did you know, for example, that there are different types of exercise bike that suit different purposes? Keep reading to find out about this and much more!
What can an exercise bike do for me?
Cycling on any kind of bike regularly will improve your overall fitness and help you stay healthier. Regular cycling will burn calories, help you lose weight, increase your stamina, build up your muscles, improve your cardiovascular fitness and provide many other related health benefits.
Plus, stationary cycling is impact-free, so there's no extra stress placed on your ankles, knees, back and other joints and body parts. This means it's very friendly on the body and makes indoor cycling a popular exercise activity for people of all ages and fitness levels.
What types of bikes are there and which is for me?
Now we know that indoor cycling is beneficial it's time to look at the bikes themselves. There are 3 types of exercise bike: upright, recumbent and Indoor cycles.
Upright – these provide a sitting position replicating that experienced on a road bike, you can also lean forward although obviously you work your core more in the upright position. Upright exercise bikes are very popular, delivering solid workouts while not taking up too much floor space in the home and appealing to a very wide range of users. They are also available in every price category in exsitence so whether you're looking for an inexpensive model to get started on or a bike that's going to be used by lots of people every day there are plenty of models to choose from.
Recumbent – the seats on a recumbent bike are reclined with back support, which rests the abdominals and lower back. But the revised seating position accesses a greater proportion of your back leg muscles (glutes and hamstrings) while you cycle. Recumbent models are especially suitable for those more out of shape or who are recovering from an injury, offering lower intensity riding and increased comfort.
Indoor cycles – indoor cycles can often be found with a chain or belt driven pedalling system that is closer to a real-world outdoor riding experience. Resistance is typically set by turning a manual dial, though some electronic models can be found at the higher-end of the pricing spectrum. An indoor bike is probably the best choice if you're a cyclist in training or want to concentrate more on performance or do interval training.
How do I choose the bike for me?
The first step is to decide which of the above types of bike suits your needs best. Having an idea of your budget is also important – you could spend under £100 on an exercise bike or over £5000! For under £100 you're looking at simpler models with more basic build and features although there are compact folding bikes at this price point (see Storage below).
From about £200 to £1500 you'll find a choice of uprights, recumbents and indoor cycles to meet all home workout needs. Upwards of £2000 you're looking at more commercial quality machines.
Resistance is an important consideration because as you get fitter you'll need to increase the resistance to challenge yourself and continue improving. Most upright and recumbent models will have magnetic resistance systems with a number of levels that you control via buttons on the console or handlebars. Indoor cycles have manual resistance usually controlled via a hand knob. You can also find air bikes, where the resistance is related to how hard you pedal.
Having a good selection of workout programs will help to keep you interested and challenged as your training programme progresses. Pre-set workouts, where the computer takes you through a defined session, can be scaled up in intensity as you get fitter by increasing the resistance level.
The weight of the flywheel has an impact on the smoothness of the ride. 7kg and above is a good level for most bikes, though some have ones weighing well over double this! More basic or compact bikes tend to have quite light flywheels, meaning they're easier to carry and store.
What 'extras' do bikes have?
User profiles, heart rate measurement, tablet and smartphone connectivity, interactive functions like iFit and other workout apps via Bluetooth, speakers and audio inputs are all available on certain bikes. These are by no means essential but can enhance your sessions and encourage you to use your bike more. It's worth remembering that some manufacturers will focus on the quality of the parts and build rather than extra features.
What if I want to store it?
Exercise bikes don't generally weigh as much as other cardio equipment, but even so, they won't fit in most cupboards. That is unless you choose a folding bike. These are extremely practical where space is limited as they are light and fold, so you can store it away when not in use and quickly and easily place it in the desired location when you're ready to ride.
How do I get started?
Now you've got more of an idea about the types of bikes that are out there, it's time to start looking for your new fitness companion. Head up to the top of this page to begin browsing our range of top-quality home exercise bikes. There are filters to refine your search by price, bike type, and brand.
Make sure you check out our range of DKN exercise bikes. Or how about our Viavito exercise bikes? If you are looking for something different, make sure you take a look at our NordicTrack and Proform range. For more information on getting the best use out of your exercise bike, check out our FAQs, features, and exercise bike workout plans.
If you have decided against upping your cycling game, why do you not consider our other products in our fitness equipment range? If you have decided that an exercise bike is not for you, check out our cross trainers, treadmills, and rowing machines.
Also do not forget to incorporate some rest, recovery, and mobility training into your schedule. Our range of yoga mats, foam rollers, and resistance bands will help you get more out of your fitness regime.