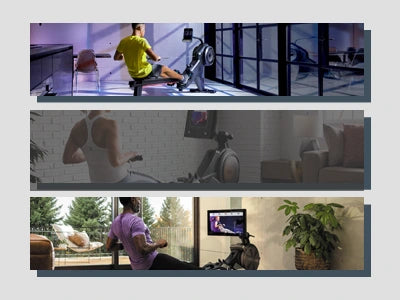 Rowing Machines
Rowing machines (AKA ergometers) have come a long way since the early models that appeared in the mid 1800s. Nowadays rowers are popular and highly effective fitness tools that have plenty of benefits. If you're considering buying a rowing machine then read on to find out more about what a rower can do for you and what to consider before you buy.
Why should I buy a rowing machine?
If you're serious about exercising and training they're actually a great investment because of the huge variety of muscle and range of movement their use involves. When you row effectively you generate power through your legs, transfer it through the torso and onto your arms.
Rowing will help you lose weight, burning calories efficiently, and build up the strength and toning in both your lower and upper body muscles as well as your core. Plus it's a cardiovascular activity so it will get your heart pumping and test and improve your endurance.
What's more, rowing machines are low impact, meaning there is minimal stress on your joints as you engage your whole body. It is worth, however, brushing up on your rowing technique as having the correct technique will ensure you don't put strain on your knees and back.
So how do I go about choosing my new rowing machine?
The main thing to think about is the type of resistance you want, with resistance being probably the the biggest deciding factor when it comes to selecting an indoor rower. Here's what you've got to choose from:
Air resistance – resistance is created by a finned flywheel which sucks in air as you row. As you increase your speed the flywheel spins faster and you increase the resistance. Air rowers are very popular and the rowing motion tends to feel pretty good, especially on air-magnetic rowers which give you the best of both types.
Magnetic resistance – magnets around the flywheel make the resistance which you can adjust usually via up/down controls on the machine's console. This is a big advantage as it means you can perform computer-controlled and heart-rate controlled workouts which aren't possible on other types of rower. Another big plus is that they operate almost silently, there's no moving air or water, so you won't disturb other members of the household during morning rowing sessions!
Water resistance – uses a paddle inside a tank filled with water to provide resistance. Like with the air rower, intensity is increased simply by rowing faster, or also by adjusting the water level. With the resistance coming from water, they are fairly quiet and you get a pretty authentic rowing experience with the feel and sound.
Hydraulic resistance – these rowers have air or fluid filled cylinders which you pull against, with resistance typically adjusted using a lever. You compromise on rowing replication a little but save on cost as they are usually the least expensive type of rower.
So how much do rowing machines cost?
Rowers are one of the most cost-effective fitness machines: you can pick up a hydraulic rowing machine for under £100! Magnetic and air rowers are normally found in the £200 to £700 range with water rowers usually costing more than this.
Spending more doesn't necessarily guarantee a better machine, but generally speaking you'll find increases in flywheel weight, resistance levels, workout programs and so on as the price goes up.
It's worth thinking about what you want from your rower, how often you'll use it, how hard you want to train and what features you'd like it to have as this will give you a good idea of what you should expect to spend.
Can I store my new rower when I'm not using it?
Yes absolutely! Lots of rowing machines nowadays are foldable, with a folding mechanism that lifts the rail up into the vertical position. If you've got plenty of room at home then this isn't a concern, but it is a useful feature as rowers can be quite long. Once you've folded the rail up, the amount of floor space taken is drastically reduced, making folding rowing machines very space efficient. Also, by nature most rowers are pretty light so if you did need to move it you could.
How will my new rowing machine be delivered?
And why should I buy from Sweatband.com?
We've got years of experience selling and delivering rowing and other fitness machines to customers. You'll find full delivery details in the delivery section on each product's page, but depending on the rower's weight we'll use a number of services including specialist 2-man teams to get your new rower to you fast, efficiently and free of charge (UK mainland and lower Scotland) at a date that's convenient for you.
And in the unfortunate event that something goes wrong, we have a full customer service and after sales department on hand to help you out, not leaving you to deal with couriers or manufacturers like many other retailers do.
We offer really competitive prices and only sell quality machines that we think our customers will love.
If you do have any questions when browsing for your new home rowing machine then don't hesitate to get in touch with us and one of our expert advisors will gladly help and advise you.
How do I get started?
Make sure you check out our range of DKN rowing machines. Or how about our Viavito rowing machines? If you are looking for something different, make sure you take a look at our NordicTrack and Proform range. For more information on getting the best use out of your rowing machine, check out our FAQs, features and cross trainer workout plans.
If you have decided that a rowing machine is not for you, why do you not consider our other products in our fitness equipment range? Check out our exercise bikes, treadmills and cross trainers.
Also do not forget to incorporate some rest, recovery and mobility training into your schedule. Our range of yoga mats, foam rollers and resistance bands will help you get more out of your fitness regime.