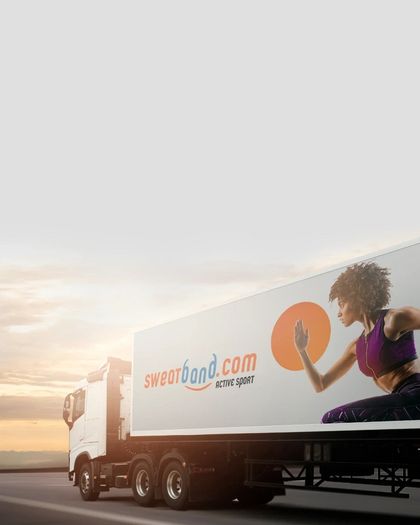 Fast and safe delivery...
COUNT US IN!
Many items are advertised with a "Free Delivery" icon. Please note this applies to orders over £15 going to most Mainland UK postcodes only (Scotland, England, Wales). There can be a charge to Northern Ireland, Scottish Highlands and the Islands (Isle of Wight, Isle of Man, Channel Islands, Isle of Lewis, Orkney ) and some other UK areas that are subject to a carrier excess charge.
Our free delivery service operates from Monday to Friday between the hours of 08:00 and 18:00. Saturday deliveries may be available on certain products and may be subject to an additional charge.
To confirm if a delivery charge will be applicable please check the delivery information on the product details page or email support@sweatband.com. Please note if delivery access is restricted, please ensure that you inform us prior to delivery to avoid delays in receiving your parcel. 
Some deliveries may require a signature at the point of delivery. On these occasions please check the delivery carefully for signs of possible damage before you sign to say that you have received them in good condition.
On some occasions, the outer packaging on heavier items may become damaged during transit. In most cases, this will have no impact on the goods themselves and this means that the packaging will have served its purpose in protecting your order.
In the unlikely event that you receive a parcel that is obviously damaged beyond all levels of acceptability, please refuse delivery and contact us via support@sweatband.com stating the reason for refusal.
We will then resolve the problem in the best and quickest means possible. Fortunately, this happens very rarely.
We aim to deliver all orders as quickly as possible with the vast majority of small items being delivered within 2-3 working days.
On rare occasions, stock may be delayed and when this happens we will be in touch to advise of the delays or recommend a suitable alternative.
We aim to deliver all orders within no more than 30 days of you placing your order. If any of the items that you ordered are out of stock, we will contact you to advise you of this.
We use a range of delivery methods to send you your goods in the quickest possible way.
For items weighing in excess of 30kg, we may use a dedicated 2 man delivery service to ensure that your order arrives in perfect condition. On these occasions, before processing your order, our deliveries team will contact you to agree a mutually convenient delivery date. In all cases we do everything possible to ensure a smooth, hassle-free delivery.
Delivery Of Head Products Outside EU/EFTA
To comply with HEAD's trading terms, the retailer may not directly or indirectly resell HEAD -Products to other retailers or consumers with a delivery address outside an EU member state or EFTA (Ireland, Liechtenstein, Norway and Switzerland) member state.