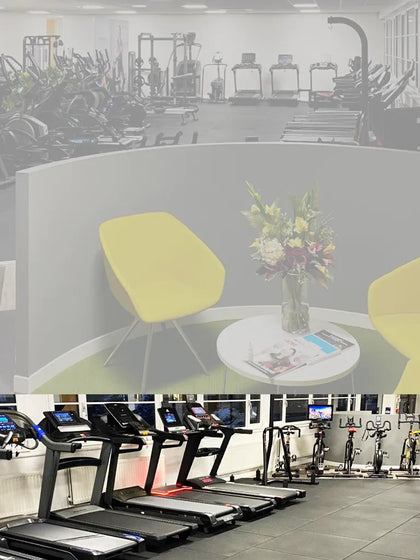 Come and Say Hi!
MILTON KEYNES
SHOWROOM
TREADMILLS
TREADMILLS
Treadmills are a great way to exercise indoors in the comfort of your home. Ideally suited for walking, jogging, and running exercise they're one of the most popular type of home fitness machines in the world today, and for good reason! If you're looking to improve your general fitness levels a treadmill can be a great training partner. If you want to improve muscle tone, a treadmill can certainly help. If you're trying to improve your mobility, then a treadmill could be a really good solution to help you get back on track. Want to improve your cardio fitness? Look no further than a treadmill! It's these qualities that make these cardio machines so popular. They're versatile, reliable, allow you to run no matter how bad the weather is, and they're especially useful during the winter months if you don't much like the idea of running alone in the dark, wind, and rain. Not all models are created equal though. Choose the right one and you'll have acquired a fantastic training aid. Choose the wrong one and, at best, your workouts will feel like a chore, at worst you won't reach your goals. That's where we come in. We've assembled a great range of models for you to come in and try and, with the help of our friendly and knowledgable staff, choose the running machine that's just right for you.
EXERCISE BIKES
EXERCISE BIKES
The humble exercise bike has, for a long time, been an ever-present choice for fitness enthusiasts that want to push themselves further, and beginners that want to start getting fit alike. The different styles available, from upright bikes to indoor cycles to recumbent models, along with the intensity they can provide without putting too much strain on the body, makes them incredibly popular. They also have the advantage that they are generally smaller and easier to accommodate than other types of fitness machines such as elliptical cross trainers, rowing machines and treadmills, and buying one doesn't have to break the bank. We've put together a range of different styles and models across multiple price points for you to try and our trained assistants are here to help ensure we match you up with the right bike at the right price.
ELLIPTICAL CROSS TRAINERS
ELLIPTICAL CROSS TRAINERS
Elliptical trainers, also known as 'cross trainers', 'elliptical cross trainers' or just 'ellipticals' are cardiovascular machines that are designed and built to work the upper and lower body with motions of natural walking, jogging and running while keeping the pressure and repeated impact away from your joints. Elliptical trainers first appeared a little over 20 years ago but have since become an ever-present feature in gyms and homes of all shapes and sizes all around the world. A great choice for improving muscle tone, losing weight, improving cardio fitness, and getting a great all-body workout, they reduce impact on your joints compared with other machines such as treadmills, or running outdoors, and are a great way to relieve stress and improve your balance and coordination too. We've put together a selection of elliptical trainers to suit all requirements and budgets for you to try and our experienced, friendly assistants are on hand to talk you through the benefits and features of each model so you can choose the model that's best for your individual needs.
ROWING MACHINES
ROWING MACHINES
Rowing machines offer one of the best all-over body workouts that any cardio machine can offer. Modern rowing machines are incredibly good at burning calories, toning and honing muscles all over the body, improving cardio fitness, and strengthening the respiratory system. Appearing first in the mid-1800s rowing machines have been popular ever since. Modern rowing machines come in all shapes and sizes and there are models available to suit every budget. From simple, no-frills, inexpensive models through to high-end premium interactive machines with large full-colour touch-screens and multiple, guided workouts there's a huge range to choose from. With different types of resistance mechanisms including manual magnetic, computer-controlled magnetic, air, and water, as well as a air/magnetic models available we're here to help guide you to the one that's going to best fit in with your fitness goals, your budget, and your home.
Cardio and Strength Training
Cardio and Strength Training
Our Milton Keynes Showroom is a dedicated cardio and strength training outlet. We stock a range of cardio equipment including treadmills, exercise bikes, elliptical trainers, rowing machines, power cages, functional trainers and more. Please note due to the large range of lines that we carry online, we are unable to hold all products in our showroom. If you are looking for a specific item, we strongly recommend calling before you visit to make sure that we have the item available. 
Opening Hours
Opening Hours
Mon – Fri: 10:30 – 15:00
Sat, Sun; Bank Holidays: Closed
Tel: 0203 773 3847
Address
Address
Sweatband.com
Unit 5, Mill Square
Featherstone Road
Wolverton Mill
Milton Keynes
MK12 5ZD