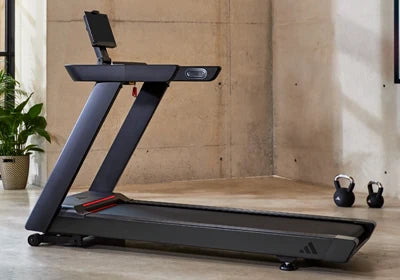 Treadmills
Why should I buy a treadmill?
The treadmill is one of the most popular types of fitness machines in the world for very good reason. Whether you want to lose weight, generally enhance your fitness, work on a rehab programme, or tone up, a treadmill is a tried and tested tool that will help you to get the job done. With a myriad of running machines to choose from, at all sorts of prices, they can all start to look more or less the same after a while when trying to pick one! Knowing the difference between what's right for you and what isn't can often be the difference between achieving your fitness goals or not. Because, the difference between your new investment becoming an invaluable ally in your quest for improvement, or an unused clothes horse has more to do with the choice you make just before you press that buy button than many believe. The bottom line is that if the treadmill you buy makes you bored, your chances of success are diminished. If your running machine can't cope with the demands you place upon it then once again your chances of reaching your goals are once again diminished. But don't panic, help is at hand and our treadmill buying guide below will help you choose the right running machine for you.
A few facts about treadmills

Running on a treadmill & walking on a steep incline both burn calories fast
A treadmill is an easy to use, intuitive piece of exercise equipment 
A treadmill is a lot kinder to joints than running on a pavement or a road
Your training programme won't be disrupted by poor outdoor weather
So let's take a look at what kind of choices are out there and see what you need to consider when looking to buy a treadmill.
I'm short of space, do you sell folding treadmills?
Yes, and this is a very common concern when shopping for any item this big, but there's no reason to worry. The great majority of the models out there are actually folding treadmills. All folding models have a system that allows you to easily lift and lower the deck courtesy of a hydraulic piston underneath the deck itself that both greatly reduces the amount of effort required to lift the running deck and also allows it to slowly drop from a folded position to a flat position keeping things safe. This means that once you've finished your session on the machine you can simply step off it and fold it away, reclaiming that all-important floor space. This also makes it easier to clean around the machine. Once folded most models have wheels that enable you to move the machine from one spot to another if you need to, though we strongly advise designating a dedicated space for your running machine and leaving it there if at all possible.

Some models are flat-folding treadmills. These are designed for vertical storage against a wall or under a bed or sofa. The uprights and console fold down into the deck, making it completely flat with a very small footprint and these are ideal if you're tight for space though are not usually suitable for heavy use such as training for a marathon.

So, how do I choose the right treadmill for me?
What will I use my treadmill for? eg Will it be just myself running for 20 minutes 3 times a week? Or, will 5 people run for an hour a day each? 
What's my budget?

How much space do I have? 
Answering these questions will help narrow down your search before you start looking at the finer details. 

If you want to walk or jog gently every day then a model with a small or medium-sized running deck (see the deck size section below) and a lower top speed along with some gentle incline levels will suit you just fine and there's no need to go for something larger and more expensive as you're unlikely to see any added benefits. If on the other hand, you plan to run 5 days a week and want to train for a half marathon you'll need a larger machine, ideally with a standard or oversized deck, a higher max speed, an incline level of 10% or more and generally a model with a more robust construction.
How much does a treadmill cost?
Prices for most domestic motorised treadmills typically range from around £350 to approximately £3000. Go over £3000 and you'll likely be looking at commercial or semi/light-commercial models. Look at models below £350 and you'll likely be looking at a machine either without an incline function, or one with a non-motorised, manual incline function and indeed you may start to come across non-motorised models that are powered solely by the user running on them. In this guide we talk about only motorised treadmills as these are by far the most common and readily available types of model.
There are no hard and fast rules but typically:

Under £599 will get you a treadmill that's good for use by one or two people using it for less than an hour per day each. Most likely to be suitable for walking, power walking, and jogging. Enough to raise your heart rate and burn some calories. These models tend to be physically smaller than their more expensive counterparts. They also tend, as a rule, to have move basic functions.
£600 - £1500 will get you a model that a single user can train 5-7 days a week on at the lower end, and that an active family of 5 can use to train several times a week, or a single person can use for more advanced running such as marathon training at the higher end. These tend to be larger and more robust in nature. Treadmills in this price range tend to have more advanced features such as interactive training and, towards the upper end, items such as touch screen displays. 
Over £1500 Will typically get you a treadmill that will be suitable for heavy training and multiple users all regularly training hard on it. Machines at these sorts of price points tend to be physically large with oversized decks and are very robust. These machines will typically have a set of advanced features too.
There are always exceptions to the rules but typically once you start looking at models priced above £800 the machines you'll come across will start to more commonly have more advanced features such as interactive training options, touch screens, Bluetooth connectivity, and adjustable cushioning systems, and so on.
As a general rule, treadmills are heavy pieces of kit so we don't recommend you plan on moving them regularly.
What Running Deck Size Do I Need?
It may seem like stating the patently obvious, but when choosing a treadmill, it's important to pay attention to the size of the running deck. They fall into the following categories:
What training functions do treadmills have?
With very few exceptions, all domestic treadmills feature workout programs of one kind or another. These programs automatically change the speed and/or incline (in the case of motorised incline models) to vary the difficulty of the workout, with an end goal in mind. Some programs focus on weight loss, others on cardio performance, and so on. There are 3 main ways treadmills deliver these workouts. They are:

Traditional Treadmills with onboard preset workouts
These types of treadmills are set up in the traditional way. There is a computer console with pre-programmed workouts loaded onboard. Typically you'll select the type of workout you're looking for (weight loss, cardio etc) and the difficulty of that workout, though many models allow you to increase the difficulty of any given workout simply by manually adjusting the speed and incline levels to suit your fitness levels. This type of machine does not require an internet connection or any 3rd party devices to work. It's all built into the console.

WIFI Connected treadmills
Connected treadmills feature more advanced consoles with built-in WIFI capabilities and often feature full-color touch-screen consoles. These treadmills will not have any workouts built into the console, but rather they connect to a WIFI network to stream the workouts to the console. They usually feature workout videos led by personal trainers and automatically control the speed and incline of the treadmill to sync with the workout on the screen. Some models offer a good range of up to 50 odd workouts free of charge with the option of subscribing to a service that provides more workout videos as well as other features like being able to race against other runners who are also subscribed to the service. The best-known examples are those of iFit on NordicTrack and Proform brands and Peleton branded machines. Typically these services run on a subscription model and you'll need to subscribe to gain access to the services.

Bluetooth connected treadmills
Like connected treadmills, Bluetooth connected treadmills also provide access to interactive video workouts but they do this via a 3rd party device like a mobile or tablet. Some of these models are tied into a particular service (eg Peleton and iFit) while others are compatible with a whole range of 3rd party services such as KinoMap, BitGym, Zwift as well as lots of smaller and less well-known apps. These latter treadmills tend to come with some onboard workouts built into the console and then offer an expansion of those workouts by using 3rd party services, some of which are subscription-based and some free. Needless to say, some apps are better than others, but as these latter machines aren't tied into a particular service you're free to experiment until you find the app/s you like best. 
What else should I be looking for?
Motor size - the motor drives the running belt. Most models will have a continuous horsepower (CHP) output of between 1.5 and 4 CHP which should cover most home needs. If you're planning to use the treadmill to run more than walk or jog you'll probably want more power rather than less.


Speed Range – a 10mph (16kph) top speed will be fine for most walkers and joggers. More experienced runners will generally want higher speeds, and higher spec machines can boast speeds of over 14mph (22.5kph).


Incline – usually measured in % or levels, running or walking on an incline will burn calories faster, engage muscles more deeply, and compensate for the lack of wind resistance compared to running outdoors. 


Cushioning – cushioning under the deck supports your strides and softens impacts, making treadmill running gentler on joints than road running. All models will have some form of cushioning. Some models are designed to simulate road running so will have a firmer cushioning system, while others will be softer. There's no right or wrong here, it's just what you feel works best for you. All cushioning systems, hard or soft, will significantly reduce the impact you experience upon landing as compared with running on the pavement.


Heart Rate Monitoring – keep track of your heart rate with hand grips or a wireless receiver and a chest belt. Hand pulse sensors will give you an approximate reading but a chest belt delivers much more accurate readings. Some treadmills will offer heart rate control programs where the machine alters the speed and/or incline based on your heart rate to keep you exercising in the desired heart rate range. A chest belt is usually required for heart rate control programs to work.


Extra Features – audio jacks and Bluetooth music speakers, Bluetooth connectivity for interactive apps, touchscreen displays, built-in web browsers, fans and other such features are just some of the 'bells and whistles that you can find on treadmills. Whilst they are nice to have, they are by no means essential. Do keep in mind that some manufacturers will not include too many extras and concentrate on build quality instead.
Why should I buy from Sweatband.com?

We've been selling running machines for more than 20 years and know a thing or two about what makes a good treadmill. Over the years, we've gained an immense level of expertise and we're actively involved with the product development cycles of brands and have visited, provided feedback and liaised closely with the factories that manufacture treadmills for several brands that we stock. The scale of our operations brings a number of benefits for those that purchase treadmills from us:
Range

- our expertise in treadmills mean that we take great care to ensure that the treadmills we have for sale are high-quality tried and trusted models, so that no matter which running machine you choose to buy you can have confidence that it will live up to expectations. In short, you can have confidence your new treadmill will do what it was designed to do. 

Pricing

– our buying power means we buy at lower prices than most retailers and we pass these savings on to our customers.

Delivery Experience

– typically, running machines are heavy, bulky items. We've refined our delivery processes to ensure that all of our bulky treadmills are delivered by a trained 2-man delivery company. If the boxed weight of the machine is over 85kg and the delivery is to a non-ground floor location, we are still able to deliver the treadmill by using a specialist delivery network

Working for you

– Whilst most retailers only stay involved until the delivery of the machine and leave customers at the mercy of the supplier brand if anything goes wrong, Sweatband.com has a dedicated & trained warranty after-sales team in place. In the event of the treadmill developing a fault, we are happy to be the first point of contact and hold the supplier brand to account to ensure that our customers are looked after properly.
What do I do next?

Scroll up this page and you can start browsing our range of high-quality home treadmills. The filters will help you concentrate on machines that fit your criteria – deck size, price, brand. And if you need any further help just let us know and one of our specialist advisors will be more than happy to answer any questions and offer advice on the best model for you.
If you are worried about the potential impact on your joints of treadmill training, why do you not consider our other products in our fitness equipment range? If you have decided that treadmills are not for you, then why not check out our cross-trainers, exercise bikes, and rowing machines?