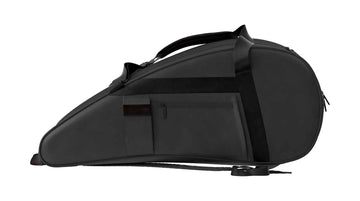 With so much equipment available for a sport like racketball, players are constantly buying things to try and improve their game. Rackets, balls, shoes, grips and dampeners are all items' people frequently scrutinise over before purchasing, to make sure they get the right one. However, one item that most players give much less consideration to is their racketball bag.
Often looked at as a way to simply get their rackets and other equipment from A to B, people often overlook the other benefits of a quality racketball bag and simply go for the cheapest option. In reality though, racketball bags can do everything from protecting your racket while it's in transit, as well as while its being stored, to making it more comfortable for you to carry, so you don't end up sore before you've even started playing.
That's why we want to take you through what's actually on offer in the world of racketball bags. We're going to show you what options are available, how they will affect your racket, and who they might be best suited for. That way, you can select the one that helps you get the most out of your racket. 
Types Of Racketball Bags
1-2 Racket Bags
1-2 racket bags are your basic type of racketball bag and are usually the cheapest. They hold just 1 or 2 rackets, so are ideal for beginners or anyone who is happy to play without a range of rackets at their disposal.
3-4 Racket Bags
3-4 racket bags are the next step up in both size and price, offering a little more space for a range of rackets. They are a good choice for anyone who is experimenting with different rackets or who likes to bring a selection with them in case one breaks, as well as those who carry someone else's racket too, such a those who play as a couple.
6-8 Racket Bags
Yet another step up in size, 6-8 racket bags allow you to conveniently carry a great selection of rackets with you. This is also where things can start to get quite pricey too. They are perfect for pro level players, who often like to have backups in case of breakages or simply want a selection to choose from depending on the conditions.
9-15 Racket Bags
9-15 racket bags are the largest option available and easily the most expensive. They allow you to carry a huge number of rackets with you and are primarily designed for people running a club or competition where you will be supplying the rackets for a number of players.
Things To Consider
Shoe Pocket
Some bags will contain additional pockets for storing your racketball shoes in, among other things. This is definitely an option worth considering if you would prefer to only have to carry one bag with you.
Waterproof
Many racketball bags are waterproof but not all are. If you are likely to get wet, for example you walk to your games, and are worried about your racket getting damaged, make sure you choose one that is.
Backpack
While the most common type of racketball bag is the over the shoulder variety, some are also able to be worn as a backpack as well. If you find that more comfortable, make sure to select one that has this feature, especially if you will be carrying it over a long distance.
Multiple Handles
Much like above, some racketball bags will only have a single handle while others will have many. This can affect everything from how you can carry the bag to how much it digs in when fully loaded. If you are concerned about comfort or how you want to hold it, make sure it has a number of handles you deem sufficient.
Climate Control Technology
Some bags come with climate control technology, to try and ensure your rackets are kept at a temperature and humidity that won't damage them. This is something to consider strongly if you will be storing them in an especially hot, cold, damp or humid location.
Material
The material of a racketball bag can affect everything from how waterproof or comfortable to hold it is, to things as simple as its appearance. Make sure you select a bag made from a material that meets all of your requirements.
Comfort
Different racketball bags will be made from different materials, have different levels of padding and offer different ways to be carried, all of which will affect your comfort. Make sure you select a bag you think will be comfortable to use, particularly if you will be carrying it for long periods.
Number Of Compartments
If you need to carry more than just rackets in your bag, whether that be other equipment to play with or items like your keys or phone, make sure your chosen bag has enough pockets to accommodate your needs.
Extra Features
While we've already covered most available features of racketball bags, there will be a few other options to consider, such as individual pockets to keep each of your rackets separate. If you want something specific, make sure you find a bag that accommodates your needs.
Your Budget
Racketball bags can range from reasonably cheap to awfully expensive, so make sure you set a clear budget to begin with, so you don't waste time analysing one that is out of your price range.