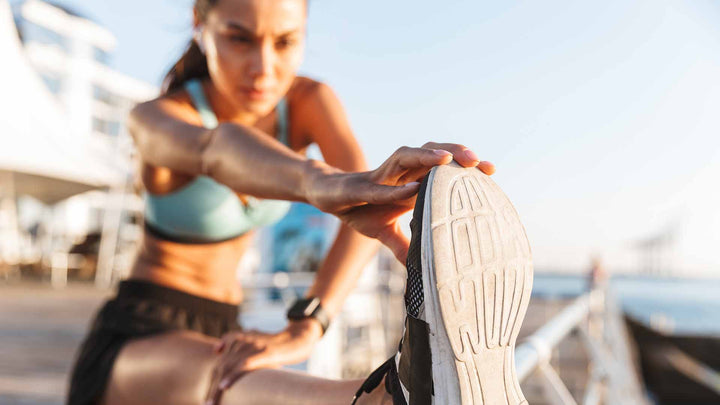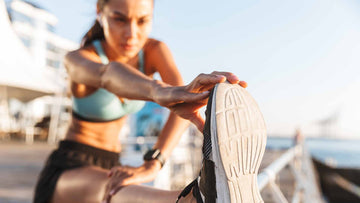 Whether you're an avid runner or you get your exercise through another outdoor sport, we all know the sinking feeling of realising we've chosen the wrong clothes for the weather. Not only can this play on your mind throughout your session but it can affect your training too. So we wanted to give you a rundown of the three main types of weather that will affect your performance and how to dress for them. From head to toe, you'll be kitted out with the perfect outfit if you follow these simple tips. 
Working out in the heat 
The key to dressing for a hot day is keeping cool. Look for sweat-wicking, breathable and thermoregulating materials. These materials will help to minimise the risk of overheating and help your body's natural cooling system to kick in. Here are the key bits of kit you need when exercising in the heat – keeping you cool and hydrated. 
Clothing: Breathable fabric clothing is best. Shorts and a vest top are a great combination. However, if you're prone to getting sunburn, opt for a short sleeve top which covers your shoulders. 
Footwear: There isn't too much consideration in terms of footwear. Again, go for footwear which is made of breathable materials and gives you the support you need for your chosen exercise or sport.
Accessories: To keep the sun out of your eyes and protect your head from intense sun exposure, invest in a cap or hat. Also, you need to keep hydrated in the heat. So be sure to take a water bottle with you wherever you go. 
Wrapping up for a cold-weather workout 
When it's chilly outside, it can be tough to motivate yourself to get active. The secret? Having some cold-proof workout clothing that's sure to keep you snug while you're exercising. We'd recommend wearing layers – perhaps a tighter base top with a sports jumper and/or hoodie. Throughout your session, you can then take off any layers as your body starts to heat up. Here are the best bits of kit to keep you from the cold.
Clothing: Cover as much of the skin as possible using layers. On top start with a tighter base layer then add jumpers and/or hoodies. On the bottom, go for leggings or full-length tracksuit bottoms with thick socks to keep your feet warm too.
Footwear: If you're looking at working out in an icy area, then it's essential to consider the grip of your trainers. Go for high-quality footwear that offers a decent amount of grip to prevent any falls or sliding when moving around.
Accessories: When training in the cold it's your extremities that will suffer – your hands, face and ears. Consider investing in some sports full-length gloves and a headband or hat which covers your ears. This will help you to focus on the task at hand rather than feeling the sting of the cold. 
Rainy-day workout wear 
Finally, we have rain. Again this can be a motivation killer, but when you're committed to your sport or running training it's a likely situation you'll find yourself in. When thinking about what you're going to wear, also consider the temperature. Is it a muggy and wet summer day or a bitterly cold drizzle in the middle of winter? Whichever it is, you should pick your outfit based on the tips above and then top it off with a great rain jacket.
Clothing: As we've said, you should dress for the temperature then layer with a sports rain jacket. This will keep you dry throughout your session, or it can at least can offer some relief post-workout.
Footwear: Slippage is also a big problem here. With this in mind, you have to consider the terrain you're looking to exercise on. If it's grass, it will likely be muddy, if it's concrete or tarmac there's potential to slip. Whichever it is, choose your footwear accordingly – slip-resistant and with additional grips (for example, football or rugby boots).
Accessories: As you're out in the rain it's essential to either have all of your electricals in a safe, rain-resistant place or to use waterproof tech (headphones etc.).  A running belt can be really handy, fitting underneath your raincoat. Alternatively, an armband that holds your phone and protects it from the rain can also be a great option. 
Whatever the weather you should now be ready to hit the field, track or streets with the right kit. 
For more advice on how to improve your performance, why not check out our blog or to get your hands on some of our quality sportswear, take a look at our range.