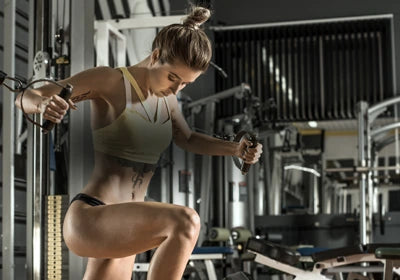 Functional Trainers
Functional Trainers at Sweatband.com
Developed in response to the growing demand for versatile and comprehensive training equipment Functional Trainers quickly became popular soon after their introduction into the market and have had a significant impact in the fitness industry ever since. These machines are an excellent choice for strength training in the home thanks to the fact that they take up so little space compared with traditional multi gyms and free weights set ups, and due to the comprehensive range of exercises that can be performed on a single workstation.

Since they first appeared on the market Functional Trainers have quickly become popular with fitness enthusiasts of all levels. The main advantages over traditional strength training set ups, are the relatively small amount of space they take up and the wide range of exercises that can be performed using them. With some models benefitting from of features such as adjustable pulley systems that deliver different maximum resistance levels from the same weight stack, they make it easy for you to target specific muscle groups for specific outcomes including muscle toning and growth. Today, Functional Trainers are used in the home more and more often, enabling individuals to safely achieve their fitness goals without having to go to the gym and without having to dedicate a whole room in the house to their fitness training.

At Sweatband.com we offer a range of functional trainers to suit your budget. We stock top brands such as Nhord, Spirit, and Cybex, so you can find the functional trainer that works best for you.