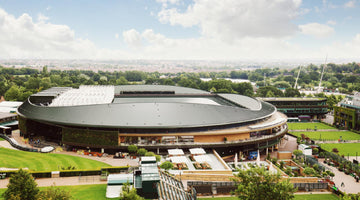 It's that time of year again when the world's most renowned tennis tournament takes place at the All England Lawn Tennis and Croquet Club in Wimbledon. We've gathered the 9 Wimbledon facts, some of which might surprise you!

This two-week event draws a whopping 39,000 spectators daily, including esteemed personalities and celebrities. People from all over come together to watch the top tennis players in the world compete fiercely for the highly coveted silver trophy. Prepare to be amazed as you dive into this bunch of facts below about Wimbledon!
1. The oldest tournament in the world
Wimbledon holds the distinction of being the oldest tennis tournament globally. Its inaugural championship dates back to 1877, where only the Men's Singles event was played. In subsequent years, the Ladies' Singles, Men's Doubles, Ladies' Doubles, and Mixed Doubles events were introduced.
2. Trophies are kept at Wimbledon
Surprisingly, the winners of Wimbledon don't get to keep their trophies. Instead, the coveted trophies are proudly displayed at the All England Club's museum, while the champions receive a three-quarter size replicas of the Cup bearing the names of all past Champions.
3. The longest match in history took place in 2010
Matches at Wimbledon can sometimes feel like they last an eternity. The longest match in Wimbledon history occurred in 2010, spanning a staggering 11 hours and five minutes over three days. American player John Isner emerged victorious against Nicolas Mahut of France.
4. Ball boys and girls are perfectly trained
Approximately 250 ball boys and girls, affectionately known as BBGs, undergo intensive training to keep track of the swiftly moving tennis balls. Training always starts in February at Raynes Park Community Sports Ground, where aspiring ball boys/girls partake in bi-weekly sessions and attend four court training sessions at the covered courts before Easter. From the Easter break onward, training exclusively occurs at Wimbledon. Each week, 50-60 children participate in the 2-2.5 hour-long training sessions, totaling four sessions per week.
5. Lots of balls are used during the tournament
Approximately, around 54,000 balls are used throughout the tournament. To maintain optimal performance, the balls are replaced every seven to nine games. When not in use, they are stored in a refrigerated container to ensure their pristine condition.
6. Before the 1986 year players used white balls only
Initially, white tennis balls were utilized due to their visibility on the court. However, the advent of color television posed a challenge as the white balls became less discernible. In response, the International Tennis Federation conducted research and introduced high-visibility tennis balls in 1972, which were found to be more suitable for television viewers. These specialized balls made their debut at Wimbledon in 1986.
7. The only tennis Grand Slam to be played on grass
Wimbledon stands as the sole Grand Slam event played on grass courts. These courts receive meticulous care year-round, and during the tournament, the grass is trimmed to a precise height of 8mm.
8. A significant change in Wimbledon's strict 146-year-old dress code
For the first time in the history of the most prestigious tennis tournament in the world, Wimbledon has changed its all-white dress code rules. A small, yet significant change has been introduced to allow female tennis players for wearing dark-coloured undershorts. According to both former and current players, the crisp white aesthetic was the source of unnecessary anxiety for women on their period. The change has helped to alleviate the worries of competitors and removed added stress caused by playing in all-white while menstruating. From now on, female players have an option of making a small departure from the Wimbledon whites and they are finally able to focus solely on performing at their best.
9. Centre court hosted Olympic Tennis Final
The prestigious Centre Court is typically reserved solely for the Wimbledon Championships. However, in a highly unusual occurrence, an exemption was granted in 2012 during the Olympic Games held in London. This iconic venue played host to the tennis final, where the victorious Andy Murray clinched the gold medal.


SOURCES:
https://www.wimbledon.com/en_GB/atoz/ball_boys_and_ball_girls.html
https://www.wimbledon.com/en_GB/about_wimbledon/clothing_and_equipment.html
https://www.wimbledon.com/en_GB/atoz/trophies.html
https://www.wimbledon.com/en_GB/atoz/faq_and_facts_and_figures.html
https://www.wimbledon.com/pdf/Wimbledon_Master_Plan_Public_Consultation.pdf
https://www.wimbledon.com/en_GB/news/articles/2015-02-19/20150219_throwback_thursday_new_balls_please.html
https://olympics.com/en/news/venus-williams-andy-murray-wimbledon-tennis-legends-olympic-champions-love
https://wimbledondebentureowners.com/wimbledon-fact-checker/
https://wp.wimbledondebentureholders.com/2019/10/01/how-many-balls-used-wimbledon/
https://www.bbc.com/culture/article/20230707-wimbledon-the-controversy-of-tenniss-strict-146-year-old-dress-code